Geschreven door: Ashley van den Adel
De afgelopen weken hebben wij onze functies en ervaringen van het huidige bestuur uitgelicht. Hieronder zijn links naar verhalen van oud-bestuurders, die ook iets hebben verteld over hun ervaringen. Klik op de naam om meer te weten te komen!
Rémy-Josquin Carré – Betrokken bij de oprichting van Serve the City Tilburg
Anouschka Luijpen – Secretaris 2018 – 2019
Julia Cleton – Penningmeester 2017 – 2018
Jelle van Dijk – Penningmeester 2019- 2020
Juul Snijder – Vicevoorzitter 2019 – 2020
Benthe Frie – Secretaris 2019 – 2020
Anne-Lin van Gelder – Commissaris PR 2019 – 2020
Despina de Werd – Voorzitter 2019 – 2020
Hieronder nog een korte uitleg over de verschillende functies: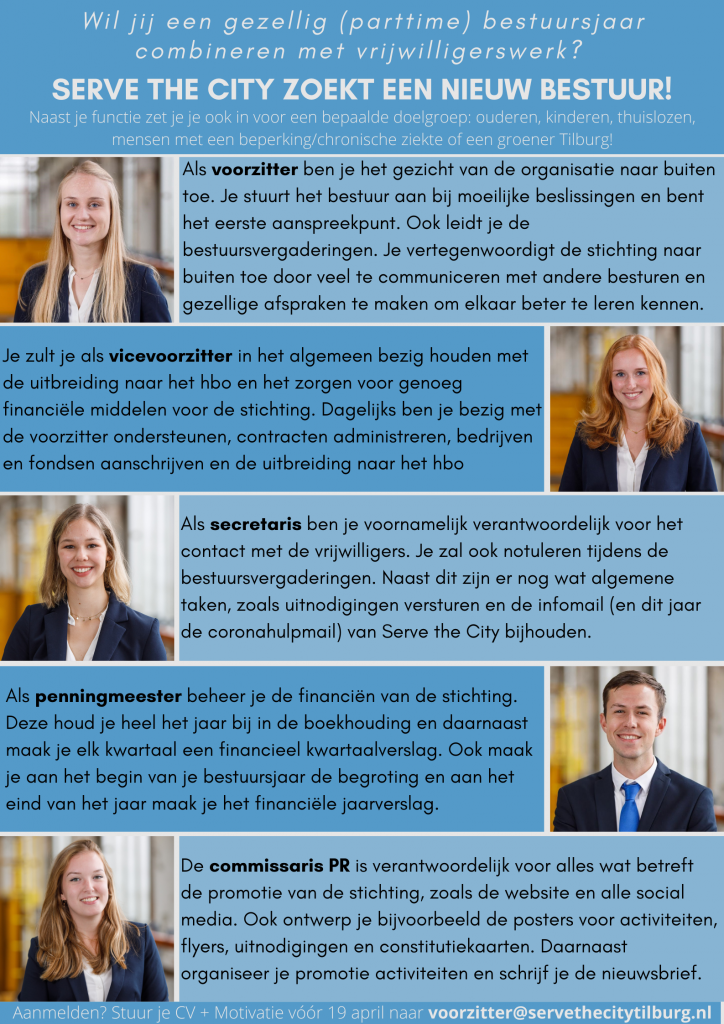 Naast de betreffende functie, heb je ook de leiding over een van de vijf commissies (Serve the Grey, Serve the Kids, Serve the Brave, Serve the Homeless of Serve the Green). Deze staan los van de functies en worden op een later moment ingedeeld! Met deze commissie en de commissieleden organiseer je activiteiten voor de betreffende doelgroep en zet je je zo in voor de hulpbehoevenden in Tilburg.
Geïnteresseerd in een parttime bestuursjaar (24 uur per week) bij Serve the City Tilburg? Solliciteer dan vóór 19 april door je CV + motivatiebrief te sturen naar voorzitter@servethecitytilburg.nl. Voor vragen kun je altijd een berichtje sturen naar info@servethecitytilburg.nl!