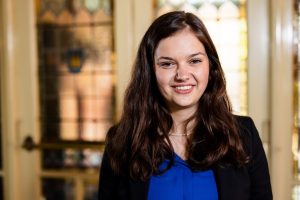 During the 2021-2022 board year, Jennefer de Rijke was Commissioner of PR for Board IX. We had the opportunity to ask several questions about her experiences during her board year.
Curious about what Jennefer especially remembered? Then read on!
How did you originally join Serve?
In my third year of college, I was looking to develop outside of my studies through a board year. I happened to already know someone who was on the board of Serve the City and heard that they were looking for board members there. Then I started reading up on what Serve the City was all about and got very excited. The aspect of giving something back to many different target groups in Tilburg's society combined with gaining organizational skills was a great opportunity for me to develop myself further. Getting to know other students and the student life around them also really appealed to me.
Why had you chosen the Serve the Brave committee? And why for Grey?
Serve the Grey and Serve the Brave are very different target groups that both really appealed to me. They involve people who are made enormously happy by a very small gesture. With a short walk, a cup of coffee and a conversation you really make these people's day. So the gratitude from them is truly very nice! In addition, the diversity of activities you can organize is enormous! It can range from a simple walk to a big theme weekend with all kinds of games and creative activities. In short, very rewarding and diverse target groups!
What was your fondest memory of your time at Serve?
My fondest memory of my time at Serve the City is that I made friends there for life. Especially with my fellow board members, I still meet up regularly. During the board year, you work closely together and share all the ups and downs with each other. You also go away for the weekends, which is great fun! That made us closer and closer together and I am still very happy with that!
Which experiences from your time at Serve are still useful today?
Especially the organizational skills and learning to work together with large organizations has given me a lot. You learn to set up small but also large activities that involve a lot of factors, such as arranging locations, volunteers, taking into account privacy laws and logistics. In addition, you build a large network because you work with so many different organizations and people.
Why did you choose the position of PR Commissioner?
I chose the position of Commissioner PR because it involves mainly creative tasks. Designing posters, making social media posts, maintaining the website, writing a newsletter and coming up with a good promo plan are all creative activities that I found tremendously fun to do as commissioner PR. I also found it super fun to be responsible for promoting Serve the City Tilburg during large events such as TOPweek and information fairs.