Serve the Green Pubquiz
Op woensdag 12 januari vond de Groene Voornemens Pubquiz van Serve the Green plaats. Er deden 18 teams mee, die stuk voor stuk hebben gestreden voor de eerste plaats. Het winnende team kreeg een leuk (green) pakketje thuis afgeleverd. Deze activiteit was een benefietactiviteit, wat betekent dat de opbrengst, wat een geweldig bedrag van 150 euro is geworden, gestoken wordt in de toekomstige activiteiten van Serve the Green! We willen graag alle deelnemers bedanken voor het meedoen. het was een erg geslaagde avond!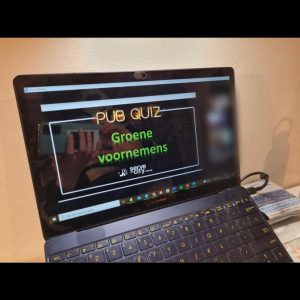 Buddyprofielenproject
De buddyprofielen zijn weer van start gegaan! Covid-19 heeft na een lange tijd nog steeds veel invloed op ons leven. Het zorgt bijvoorbeeld voor veel eenzaamheid onder ouderen én studenten. Daarom gaan we ook dit jaar weer aan de slag met het buddyprofielenproject. Bij dit project worden ouderen aan studenten gekoppeld op basis van hun voorkeuren voor activiteiten en hoe vaak ze contact willen met hun buddy. Het kan bijvoorbeeld zijn dat er een keer in de week een spelletje met elkaar gedaan wordt of dat je belmaatjes wordt. Deze kleine dingen maakt een mens al snel blij. Wat je wil doen met je buddy en hoevaak in de week is dus volledig aan jou! Lijkt het jou leuk om mee te doen met het buddyprofielenproject? Meld je dan snel aan via
deze link.