Serve the City Tilburg is looking for its 10th board! Are you interested in a year on the board and are you curious about our functions within our board? Then read on and keep an eye on our socials and website, because in the coming days each board member will have her say. The board members will share their experiences about their year at Serve the City Tilburg and explain what their functions entail. Today it is the turn of our PR Commissioner.
Enthusiastic? Then apply quickly for the 10th board! Send your CV + motivation to voorzitter@servethecitytilburg.nl before April 11!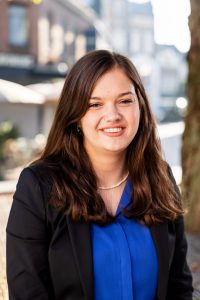 Who are you and what is your position on the board?
My name is Jennefer de Rijke and I am 20 years old. This year I am the PR Commissioner within the board of Serve the City Tilburg. This means that I am mainly responsible for the promotion of the organization. For example, I manage the social media channels, such as Instagram, Facebook and LinkedIn. I am also responsible for the lectures and visibility days, on which we tell about Serve the City Tilburg. In addition, I maintain the website and write a newsletter once a month that highlights everything we do as an organization. Finally, I am the coordinator of two committees: Serve the Grey and Serve the Brave. Serve the Grey is dedicated to vulnerable elderly people in Tilburg and Serve the Brave to people with a physical or mental disability or chronic illness.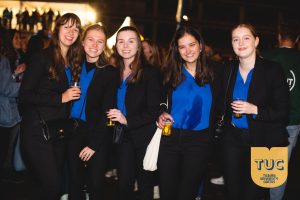 Why did you start doing a board year? And is it easy to combine with other commitments?
I started doing a board year because I wanted to do more with my time as a student than just studying. Your time as a student is the best time for you to develop on a personal level! A year on the board is also very rewarding. You learn a lot about your own knowledge and skills and learn to improve yourself in many areas. Besides my tasks at Serve the City I also have other things on my schedule. I am active in the student association Plato. Occasionally I am not present at an activity of Plato, because my year at Serve the City is my priority at the moment, but in general I can easily combine these activities. I also study and work next to my year on the board. This often makes my weekly schedule quite full, but with a bit of good planning I can usually work it out. All in all, a part-time board year certainly takes up a lot of time, but you always have time left over for other fun things!
Why did you choose Serve the City for your administrative year and not for another organization?
I chose Serve the City Tilburg because I have a great affinity with volunteering. From a very young age I was taught that it is good to do something for others, whether or not they need help. The little things in life make people a lot happier. I wanted to be able to do the same for others in Tilburg. With that mindset I went looking for an organization. Serve the City Tilburg was the answer.
Why did you choose your current position?
I really enjoy being creative and this is of course a good thing with the position of PR Commissioner. You design posters, flyers and do your best to make the socials look as nice as possible. Of course you also have to write texts for the promotion and the newsletter. Even then I can let my creativity run wild. Creativity is definitely a plus if you want to be a PR commissioner!
What have you learned from your year on the board? Would you be able to apply this later on?
I am always someone who wants to do everything at once. I find many things very fun to do and always want to pick up everything myself. This can sometimes be a huge stumbling block for me. I have learned that I can say no sometimes when someone asks something of me. I have started to set priorities and to realize that I cannot always do everything myself. I also learned that as a board you can respond to each other enormously. One board member, for example, is better at a certain task than I am. So you can complement each other in these kinds of things. I will definitely take this into account in the future. Everyone has his or her qualities. You can respond to that and make the most of it.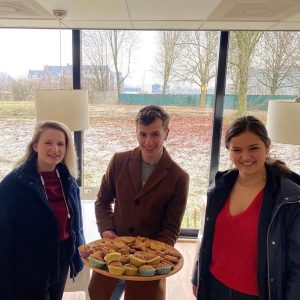 What has stuck out to you the most from this (corona) year?
The thing that has stayed with me the most is that all the different target groups that we do something for can learn a lot from each other. Volunteering is not just doing something good for someone else. It is also about understanding each other's world. Only when you come into contact with each other you can understand what each other's world is like, what someone does in a day and what challenges that person faces. You can best help another person if you are aware of this. The awareness that comes with volunteering really stayed with me and I still think that is wonderful to see!
What message would you like to give your successor?
Together you can achieve more. You don't do a board year alone. You do this together with the four other board members. Each board member has his or her own function that he or she is concerned with, but you will notice that the functions here and there overlap in terms of tasks. In addition, you take many decisions together in a board. In short, you are constantly involved with the entire board in what happens within the organization. In addition, each board member has his or her own qualities. You can capitalize on this by complementing each other and dividing the tasks in such a way that everyone does what he or she is good at. Teamwork is therefore a major factor during a year on the board!