Serve the City Tilburg is looking for its 10th board! Are you interested in a year on the board and are you curious about our functions within our board? Then read on and keep an eye on our socials and website, because in the coming days each board member will speak. They will share their experiences about their year at Serve the City Tilburg and explain what their function entails. Today it is our Vice Chairman's turn.
Enthusiastic? Then apply quickly for the 10th board! Send your CV + motivation to voorzitter@servethecitytilburg.nl before April 11!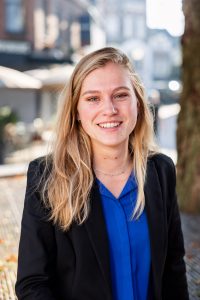 Who are you and what is your function within the board?
I am Amber van Ginneken, 21 years old and this year I can fulfill the role of vice president of Serve the City Tilburg. Besides being on the board of Serve, I am working on my master in Clinical Child and Youth Psychology this year. As vice president I have many different and also challenging roles. I am responsible for acquisition, which sounds more difficult than it is. This means that I make sure that Serve receives funds to organize its activities. I am also responsible for expanding our reach and brand awareness to the HBO and MBO. Finally, I support the chairperson of Serve in her tasks when needed. Besides my tasks as vice president I am busy coordinating Serve the Wisdom and the internal activities committee. Serve the Wisdom organizes activities to create awareness about topics that are often seen as taboo. These include poverty, homosexuality, refugees, etc. The internal activities committee organizes fun activities for the volunteers themselves, such as an escape room, paintballing and a pub quiz.
Why did you decide to do a board year? And is it easy to combine with other obligations?
Last year I volunteered for the Serve the Kids committee and organized activities for children with a backpack. I loved doing this, but I wanted to do more for the organization Serve the City Tilburg. That is why I decided (rather last minute) to apply for a year on the board. Besides being vice president I also follow the courses of my master. This is easy for me to combine, partly because I have one class on Friday during the week. I also have a side job on the weekend and on Monday. I spread my tasks for Serve the City over Tuesdays, Wednesdays and Thursdays. I can therefore easily combine Serve and my other commitments!
Why did you choose Serve the City for your administrative year and not for another organization?
I chose Serve the City because as a committee member I was already proud to be involved with this organization. I found and still find it super to volunteer with students who are doing a different study than I am. At Serve you meet people you would normally never meet, both in the target groups you organize activities for and in the committees themselves. I have broadened my horizons enormously by being involved with Serve the City!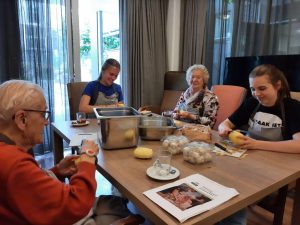 Why did you choose your current position?
I chose the vice president position because it seemed like a nice challenge. Acquisition is something I had never done before and was therefore completely new to me. Expanding to the HBO and MBO is also a challenge, because reaching these students is a bit more difficult than reaching university students. Still, I chose this position because I wanted to step out of my comfort zone. I learned a lot last year about fundraising, networking with study associations at HBO schools and making contact with the MBO. In this way, I also got to know a lot of people outside the university. If you want to develop yourself in these areas and are up for a challenge, I would definitely choose the vice-president position!
What did you learn from your year on the board? Would you be able to apply this later on?
I learned a lot during this year. During corona time, you learn to think creatively and flexibly. Many things that could normally be done didn't work for us because of the measures that were in place at the time. I've also become a lot more sure of myself. I often found it difficult to express myself during discussions and meetings, but this is going much better now. I have also learned to plan better, something that was really necessary during this year. In addition, I have learned to work together with many different people in my committees, within the HBO and MBO. Because of this, my communication skills have improved enormously. All these skills I can definitely use in my future work life.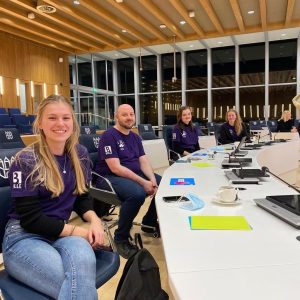 What has stuck out to you the most from this (corona) year?
What has struck me most is how grateful our target groups can be for what we see as small things. For example, when we go for a walk with the elderly, they are incredibly happy to be able to spend a morning outside. Sometimes even to the point of tears! It is so nice to see that our activities actually leave an impression on the target groups and this will always stay with me.
What message would you like to give your successor?
During a board year you learn a lot, about yourself, about your board members and about organizing activities. You may be stepping out of your comfort zone, but it is definitely worth it! In addition, you will build a relationship with your fellow board members and make friends for life. Do you have a heart for volunteer work and do you dare to take on a challenge? Then sign up for a year at Serve the City Tilburg!