Serve the City Tilburg is looking for its 10th board! Are you interested in a year on the board and are you curious about our functions within our board? Then read on and keep an eye on our socials and website, because in the coming days each board member will speak. They will share their experiences about their year at Serve the City Tilburg and explain what their function entails. Today it is our Chairman's turn.
Enthusiastic? Then apply quickly for the 10th board! Send your CV + motivation to voorzitter@servethecitytilburg.nl before April 11!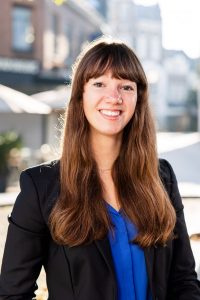 Who are you and what is your function within the board?
I am Julia Leenen, 22 years old and besides my board year I am following the Master in Clinical Child and Youth Psychology at Tilburg University. In my spare time I'm active in the ladies debating society Nontemba, I like to watch Netflix and I like to be with my girlfriends and boyfriends.
My function within the board is President. I am the first point of contact for partners, other associations and board members, the development coordinator and the Advisory Board. I lead the board meetings, schedule them and set the agenda for them. I also maintain the general overview within Serve the City. By keeping this overview, I can keep an eye on that everything is going well and address people when tasks are not properly fulfilled.
This year I am also coordinating the Serve the Kids committee. They dedicate themselves to children with a backpack. So there are many tasks, but you just roll in it!
Why did you start doing a board year? And is it easy to combine with other commitments?
I started doing a board year because there was actually no soft cut and I had a kind of gap year. I had to pass two courses of my bachelor and had no other obligations. Then it turned out that the soft cut would apply after all and I chose to follow the master in Clinical Child and Adolescent Psychology. At the moment I only have to do the courses, I deliberately chose this to be able to focus as much as possible on the administrative year.
To come back to whether it is easy to combine, in the beginning it was a bit more difficult, especially because you are still very much looking for what is involved in your function, but also within the board and the committee itself. In addition, I still work at home, which is occasionally difficult if you have something on a Friday night. But you also need to plan well and keep an overview in your agenda. Because it is important that you also plan time for yourself. Especially in the beginning there is a lot of pressure on you, but during the year you know what to expect in terms of pressure and you can easily adapt to this.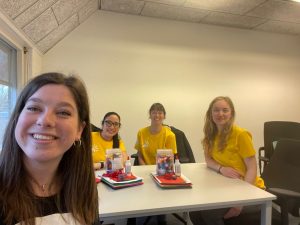 Why did you choose Serve the City to do a board year, and not another association?
Before I applied for Serve the City I also applied at Integrand. I wasn't accepted, which was nice afterwards. I found out that it was not quite my thing. Then I started looking further and actually followed Serve the City for 2 years. I've always wanted to do volunteer work, so I thought I'd just give it a try and if it didn't work out, that wouldn't be a problem either. It was also very nice that it is a part-time board year, which made it easy for me since I still had to follow two courses.
Why did you choose your current position?
During my application I had actually applied for two other positions, namely Secretary and Commissioner PR. After my application I was called by Femke, the former president, and asked if I would consider the position of president. This meant that I had to step out of my comfort zone. After discussing it with people who are important to me, I came to the conclusion that it would be stupid of me not to take on this challenge. Now, in retrospect, I am very happy that I was promised this position, as it has brought me a lot. And I learned a lot from this and also got to know a lot of people.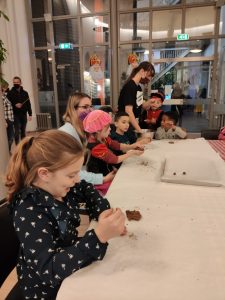 What did you learn from your board year? Would you be able to apply this later on?
My administrative year taught me that I had to take the lead, which was very difficult for me in the beginning because I am normally a person who likes to be in the background. But now I had to be in the foreground. I also learned how to organize big and also small activities, with the board and also with your committee. I also learned how to deal with conflicts. This is therefore very important while working with other people. This will always be an important thing in life. You also really get to know yourself, and also this is something that you can apply all your life. Not only in business but also in your private life.
What has stuck out to you the most from this (corona) year?
What has stuck with me the most last year is that people are so grateful that you help them. As a student, you don't realize what's actually going on in your city outside of student life. Through the volunteer work we do, you see how many people live in circumstances you never thought about. In addition, you get to know so many people, which in turn leads to very nice activities, such as Cobo's, parties and get-togethers.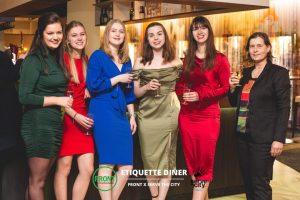 What message would you like to give your successor? 
Don't be afraid to step out of your comfort zone. It is really exciting at the beginning, but you get used to it very quickly. Besides that, it's just a really fun and educational year where you get to meet lots of different people. This includes fellow students, the business world but also the target groups. It is good for your personal growth and your CV. And even though it remains a cliché, a year goes by so quickly, but it is still a super fun year.