In the past month there were again many fun activities planned. Curious about what we organized? Then read on!
Workshop Blauwe Maan
On April 12, Serve the Wisdom hosted a workshop with De Blauwe Maan in collaboration with Fractie SAM. De Blauwe Maan is an organization that provides assistance to victims of sexual violence and their loved ones. Luna and Corinne gave a workshop on sexual transgression and victim blaming and explained exactly what these terms mean. Great conversations arose among the participants and more awareness was created about how painful victim blaming can be for victims of sexual violence. The workshop ended with a lunch, arranged by Wijkcentrum de Poorten. We would like to thank the participants of this workshop for their attendance and their attention to this important topic.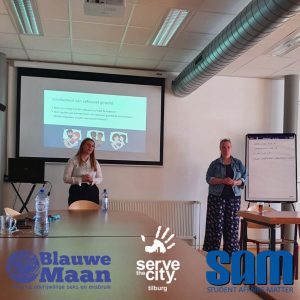 Easter Activity Serve the Kids
On April 13, Serve the Kids went to the Jerusalem Community Center to organize an Easter activity together with R-Newt. During this activity the children painted Easter eggs, got their faces painted, searched for Easter eggs themselves together with the Easter Bunny and enjoyed the many chocolate Easter eggs. Despite the bad weather it was a successful afternoon with many enthusiastic children who enjoyed this activity.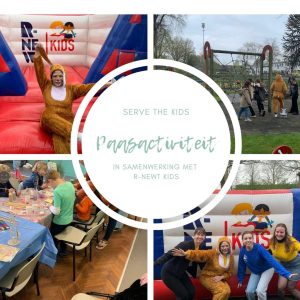 Activity with our Volunteers #4
On Friday, April 15, it was already time for our 4th volunteer activity. This time there was a sporting activity on the schedule, namely: bouldering at Block013. Despite the sore muscles the day after it was again a successful activity!
TUC for Tilburg day
On Wednesday, April 20, the TUC for Tilburg Day was scheduled again. On this day we, together with our volunteers and many other students, organized many wonderful activities. Serve the Grey, together with T.S.R. Vidar, gave elderly people from different nursing homes a nice day by organizing a games afternoon/bingo. Serve the Green also organized a community clean up together with VSA. Serve the Brave again walked with the clients of De Tongerlose Hoef. Furthermore, Serve the Gentle started a card campaign, where students at the campus of Tilburg University could write their own cards for lonely young people. Finally, Serve the Homeless lent a hand at the Food Bank in Tilburg. All in all it was a successful day, in which we were able to do a lot of good!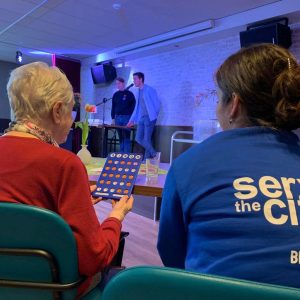 Old Dutch game afternoon
Last Monday there was an old Dutch game afternoon planned with the clients of ASVZ. The committee members of Serve the Grey and Serve the Brave and the students of Via Fidei played the best games, such as: shuffleboard, can throwing and memory. The clients participated fanatically and had a great afternoon!