In the month of oktober there are again many fun activities organized. Curious about the activities? Then read on!
Meet our…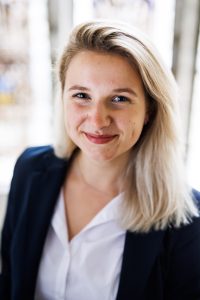 Over the next few months, this year's board members will be introduced in turns. Briefly, we will tell a little about our roles and give a peek into our daily lives!
Hi! I'm Kiara Hardus and the PR commissioner of board X. My job is to manage social media, design promotional materials and prepare the newsletter. I am also the coordinator of the Serve the brave committee, which is dedicated to helping people with intellectual and/or physical disabilities or chronic illnesses.
I am currently enrolled in the master's program in Clinical Adult and Elderly Psychology and will soon start working as a personal counselor for Amarant in Oisterwijk. I also enjoy watching movies, reading and working out in my free time. 
Beursvloer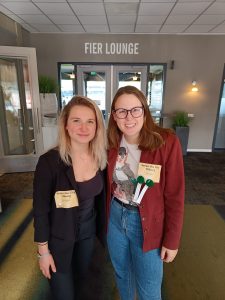 On October 11, our Vice-President (Hannah Kristalijn) and Commissioner PR (Kiara Hardus) traveled to the stadium of Willem II for the 2022 edition of Beursvloer. Beursvloer is a platform from Contour de Twern where companies and social organizations come together. In a few hours the parties present try to make as many valuable matches as possible. 
During this edition, we managed to make several matches with which we can help our organization further and offer our target groups fun activities!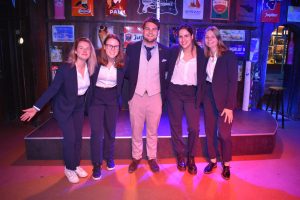 Constitution Drink
In addition to the Beursvloer, we also had the opportunity to celebrate our Constitution Borrel on Oct. 11. During a Constitution Borrel, invited boards from other organization and associations drop by to congratulate board members on their board year and toast to upcoming collaborations. 
We had asked Matthijs de Boer if he would act as host for us. The host takes care of registering and calling the guest boards and makes sure that the get-together runs in good lines. Matthijs did this with immense enthusiasm and conviction, for which we are very grateful!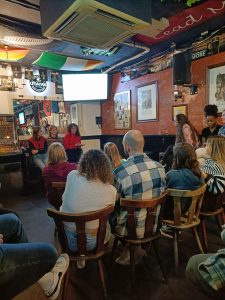 LCM AIESEC
On October 24, the board of Serve the City Tilburg had the opportunity to attend a Local Committee Meeting (LCM) of AIESEC. During this meeting, the Vegan Student Association (VSA) Tilburg also conducted a workshop. During this workshop, among other things, we learned about what it is like to eat vegan and were shown several examples of vegan swaps.

Confidential Contact Person
On October 31, our Commissioner PR attended a Confidential Contact Person (VCP) training, making her now the VCP within Serve the City Tilburg. Soon more will be announced on the website and through the social media about this task.
For matters regarding guidance, advice and providing information about the necessary next steps in case of a (personal) problem, the following email address is available: VCP@servethecitytilburg.nl. 
Looking ahead…
– Start up walking Serve the Brave and Serve the Grey
– November 9 – network meeting Tilburg coalition against loneliness
– Target group day