In the month of January there are again many fun activities organized. Curious about the activities? Then read on!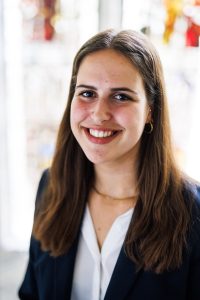 Meet our…
Over the next few months, this year's board members will be introduced in turn. Briefly we will tell a little about our positions and give a peek into our daily lives!
Hee! I am Sanne, 20 years old and currently in the third year of my bachelor psychology. I am originally from Zegge, a village near Roosendaal, but have been living in Tilburg for over 2 years in the always cheerful 'Huize Dikke Duif'.
I enjoy making music, running and adding beers to my untappd. Furthermore, I am a member of student association Plato, where I am active in sorority DOT..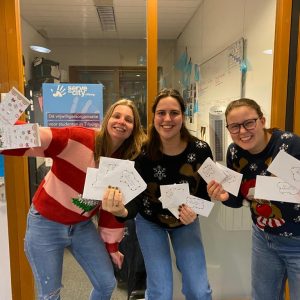 Christmas cards for the grey
For most people Christmas is a time of togetherness. Unfortunately for many elderly people this is not the case. To show our support and offer comfort during the holiday season, Serve the Grey has written Christmas cards for lonely seniors.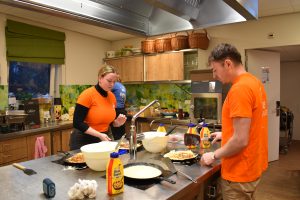 Pancakes for Villa Pardoes
On January 5th, the committee members of Serve the Brave dove into the kitchen of Villa Pardoes. In two hours they baked enough pancakes to serve the 12 families of Villa Pardoes. At the end, of course, the students joined the families.
Villa Pardoes offers children with serious illnesses and their families the opportunity to take a break. The residence rooms are built to meet all care needs. In the luxurious vacation home located next to the Efteling, the children, siblings and friends can enjoy just being a child again!
Blue Monday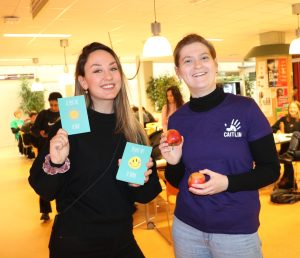 On monday the 16th of January, Serve the Wisdom teamed up with students from Fontys journalism school to put a positive spin on Blue Monday. During the lunch break they handed out apples and cards, the written cards could then be given to a friend to cheer them up!
Do you want to put a smile on someones face? Then come pick up a card at our boardroom in the Esplanade building room 205.
Kids craft activity
On January 30th, Serve the Kids committee members gathered at the old GGD building on Ringbaan West. This old building has been transformed into a shelter hosting refugees from Ukraine. In the afternoon, the serrated scissors and glue sticks came out and there was busy crafting! Contact was difficult because of the language barrier, but through modern technology, hand gestures and simply demonstrating it all worked out. Together with the children various crafts were made, such as folded boats and airplanes. Luckily for these crafts you need little verbal communication. At the end of the activity, the craft supplies were left behind so that the children could continue crafting at a later time!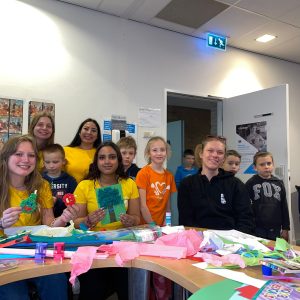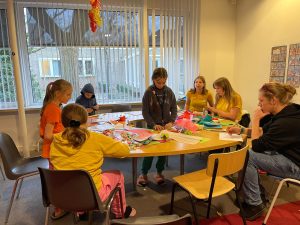 Looking forward…
February 7th           Moskee Tour  – Serve the Wisdom
February 15th         Internal activity Pre Carnaval Karaoke Cantus
February 21st         Carnaval activity – Serve the Kids
February 27th         Tour at La Trappe with a lunch – Serve the Grey