In the month of February there are again many fun activities organized. Curious about the activities? Then read on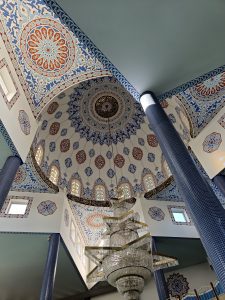 Moskee Tour
February 7th, we were allowed to visit the Süleymaniye Mosque with a group of students. We were given a tour of the beautiful building, which contains, in addition to a prayer room, a hairdresser, store and meeting rooms. We were explained the function of the mosque and exactly what Islam is all about. For many people this was an eye-opening and wonderful experience!
Pubquiz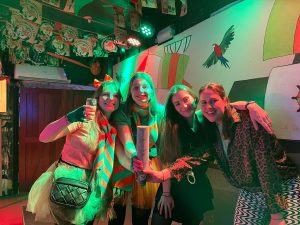 On February 15th, it was time for the second committee activity. The competitiveness of the committee members was put to the test during a Pubquiz. The Pubquiz began with several questions related to Carnival. For example, did you know that 'carnival' means taking away meat? The teams were evenly matched and in the end the last round was decisive.
The winners did not go home empty-handed. The winning team got to enjoy various delicious fried snacks. There was also a prize for the best dressed committee member. The prize was the most classic Tilburg Carnival drink: Schrobbeler!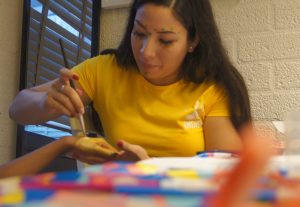 Carnival games
During the week of Carnival, there was fortunately also time to organize a fun activity for the children associated with the organization Quiet. The committee members put the children in the spotlight with an afternoon of games and face painting!
Pancakes Kids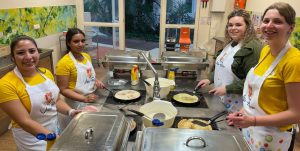 The committee members of Serve the Kids were also welcome at Villa Pardoes this month. Here, together with the volunteers of Villa Pardoes, they got to bake pancakes for the families visiting the hotel.
Lunch at La Trappe
On Monday, February 27th, 10 senior citizens visited the terrace of the La Trappe Brewery 'de Koningshoeven'. Here they were welcomed with coffee and warm apple pie, after this they were shown around and learned all about Trappist beer. After the tour and an informative film, the elderly enjoyed a sumptuous lunch. In April and May, two more groups of elderly people are welcome for an unforgettable afternoon!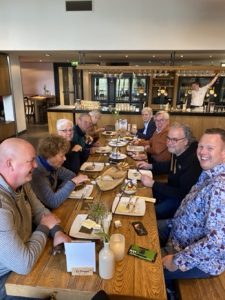 Looking forward…
March 9th            Sustainable City Tour  – Serve the Wisdom x VSA
March 22nd         Strolling Bingo at the Hazelaar – Serve the Brave
March ?                Music bingo – Serve the Grey