In the month of March there were again many fun activities organized. Curious about the activities? Then read on!
Etiquette diner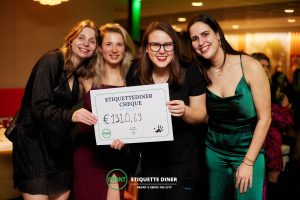 Every year, together with Fractie Front, we organize the etiquette dinner. On this evening, between courses, the etiquettes of dining are explained by rector magnificus Wim van de Donk.
By buying a ticket, guests pay an amount towards an activity of Serve the City Tilburg. This year we decided to use the amount for the Amarant weekend. The amount raised this year was no less than €1310.69 euros!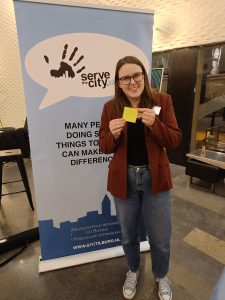 Februaryconference
Every year, six students from TSR Vidar Tilburg organize the Februaryconference. This year on March 6, the theme was contrast, and what is a greater contrast than volunteer work and a regular job! There were several speakers, courses and an information market. At the information market we had the chance to tell students more about volunteering and to enthuse them. We did this by having the students come up with their own ideas for activities for different target groups.
Green City Tour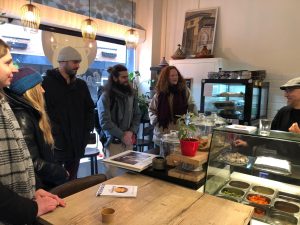 On Thursday, March 9, we discovered all kinds of sustainable stores and restaurants during the Green City Tour. We drank a cup of fair-trade coffee at Locals, heard the story behind the vintage salt and pepper sets at Bliek, had a lovely cup of harirasoup at the Couscousbar and shopped at the Reshare store. To end the tour, we had some snacks at Focus foodbar and Steck. All in all, it was an enjoyable afternoon and we discovered fun new places to shop and eat!
Experience your future

On March 14th the Study Association Complex organized the Experience Your Future event. During this annual event, visitors receive information about psychology and different job opportunities. In addition to the 12 speakers, there was also an information market where we and other volunteer organizations were able to tell the students all about what we do.
Traverse activity x Navigators X Complex
Together with Complex and Navigators Tilburg, an activity was organized at Traverse on March 22! The children organized themselves at location de Bron. Here several games were played, such as: bowling, crafts and 30 seconds. After the busy running around, the children were of course given lemonade and some sweets.
Hazelaar walkingbingo
On March 22nd, Serve the Brave put on their walking shoes and organized a walkingbingo at the Hazelaar. Despite the predicted bad weather, a total of 80 seniors, family members and volunteers headed out to play a walkingbingo. The participants had to search for herons, pink scarves and police cars, among other things. In the end we were all winners and all participants were sent home with something tasty and something fun!
Looking forward…
April 4th             Easter crafts activity at the Hazelaar – Serve the Brave
April 5th             Easter crafts – Serve the Kids
April 5th             Elderly and buddy speeddating – Serve the Grey x Odulphuslyceum
April 5th             Symposium Sustainability on a budget – Serve the Wisdom x Studium Generale
April 12th           Tour at La Trappe with lunch – Serve the Grey
April 20th           Kingsday – Serve the Grey x Kids
April 26th           Clean up Day – Serve the Wisdom