In the month of June there were again many fun activities organized. Curious about the activities? Then read on!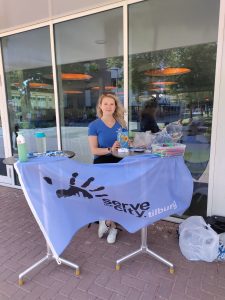 Cards for refugees
On June 6, we were on the campus of college Fontys. We asked the students here to write uplifting cards to refugees from Ukraine. We will bring the cards to the shelter at ringbaan zuid.
Petje Af X Ontdekkingsstation013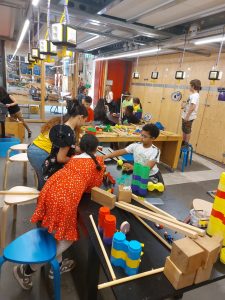 In cooperation with Petje Af we organized an activity on both June 7 and June 14. We were welcomed twice at Ontdekkingsstation in Tilburg.
On June 7 we built a chain reaction together with the kids. The children all had to build their own table and in the end they also had to connect the tables with each other so that one long chain reaction was created.
On June 14 we held a lego workshop at the discovery station. In groups of 2, the children all had to build a vehicle and also program it themselves. It was a challenging but successful task.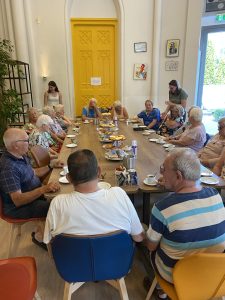 Serve the Diner x T.S.V. Plato
This year, in cooperation with T.S.V. Plato, Serve the Dinner was organized again. This time there was a high tea in community center de Poorten, where 18 elderly people enjoyed all kinds of delicious treats and a cup of coffee or tea. It was a very successful afternoon!
Music bingo

On Wednesday, June 21, a music bingo was scheduled at 'Boshuis'. The residents played fanatically, but also sang along with the well-known songs! It was a musical afternoon, with the winners taking home with a nice prize.
Kinderfestival
Due to the heat, this year's children's festival was all about water games. Hubertus' 110 students from grades 5 through 8 came to Westerpark to enjoy a day of fun. After a shared game, the students were split into 5 groups after which they alternated throughout. The afternoon ended with a refreshing ice cream.
Beekse Bergen
On June 17, Serve the Kids left with a bus filled with 55 parents and children to Speelland at the Beekse Bergen. While some spent the whole relaxing at the beach, others did as many activities as possible. There was water cycling, miniature golf, and swimming. The families were all residents of shelters for Ukrainian refugees in Tilburg. It was a fun and sunny afternoon!
Duurzaamheidsochtend @Campus013
On June 20, Serve the Wisdom organized a sustainability morning at Campus013 in collaboration with intern Femke. During this morning, 3 companies came by and all organized a workshop related to sustainability. Contour de Twern talked about the Sustainable Development Goals, 'het ontdekkingssstation' came by to show how technology can contribute to the waste problem and VSA Tilburg explained how you can live more sustainably when it comes to food. It was a successful morning that really got the students thinking about sustainability!
Looking forward…
July 4th                 Bowling – Serve the Brave
July 8th                 Amarant Circus Weekend – Serve the Brave
July 9th                 Amarant Circus Weekend – Serve the Brave
July 11th               Cluedo OCL – Serve the Brave
July 11th               Last time walking Boshuis – Serve the Grey
July 12th               Last time walking Tongerlose Hoef – Serve the Brave
July 13th               Last internal activity
July 14th               Buddy BBQ – Serve the Grey